A TASTE OF ITALY IN THE FRENCH QUARTER
A New Orleans staple for Italian-American cuisine located in the beautiful and quiet Lower French Quarter
Off the beaten path of the more crowded and raucous Upper French Quarter, and only a block from historic Bourbon Street, Mona Lisa has served as a neighborhood staple for more than thirty years. The building having variously served, among others, as a cigar shop and machine-works building, the current incarnation still retains many of the features of its colorful past.
Mona Lisa's interior is as quirky and colorful--and romantic--as the city in which it exists. Adorned with hundreds of Mona Lisa's from as many patrons, the intimate space serves as a perfect backdrop to our unique and delicious take on Italian cuisine.
Phone
(504) 522-6746
Location
1212 Royal St
New Orleans, LA 70116
Hours
M-Sun 5–10ish
Closed Tuesdays
Sorry, we do not accept reservations.
Delivery is available to the French Quarter and Marigny.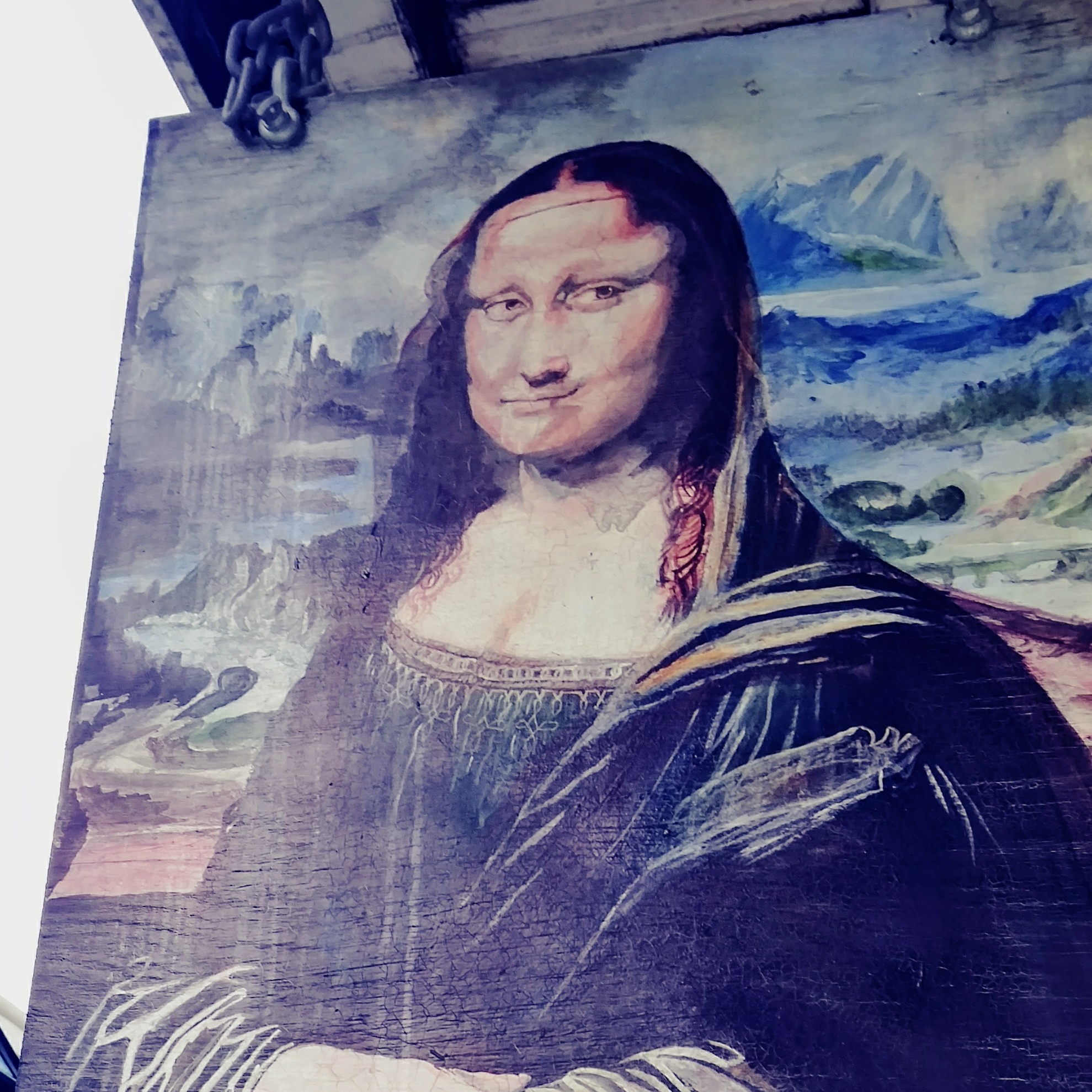 $

5.75
Tapenade
a savory olive spread topped with goat cheese and served with our house-made seasoned bread sticks
$

4.75
Traditional Garlic Bread
a basket of our garlic-buttered and toasted Italian loaf served with marinara sauce
$

5.75
Bruschetta
a tomato, balsamic, basil relish with garlic, served with our house-made seasoned bread sticks
$

3.5
Garlic Cheese Bread
slices of our cheesy, garlic pizza bread
$

5.75
Spinach Dip
spinach and artichoke hearts, blended with cream cheese and spices, served with our house-made seasoned bread sticks
$

2
Housemade Marinara
side of our rich red sauce, perfect when paired with our Traditional Garlic Bread or Garlic Cheese Bread
$

9.5
Mediterranean
romaine, tomato, cucumber, green bell pepper, green onion, mushroom, mozzarella, green olive
$

9.5
Spinach
spinach, tomato, mushroom, red onion, kalamata olives, feta cheese, egg
$

9.5
Chef
romaine, tomato, green bell pepper, cheddar, mozzarella, turkey, ham, egg
$

9.5
Tomato-Onion
romaine, tomato, red onion, mozzarella, olive salad
$

8.5
Caesar
romaine, Parmesan, croutons, Caesar dressing
$

4
House Side Salad
romaine, tomato, cucumber, green onion, red cabbage
$

4
House Caesar Salad
romaine, Parmesan, croutons, Caesar dressing
Salad dressings: Feta cheese vinaigrette (house), Balsamic vinaigrette, Italian, Blue cheese, Ranch, Poppyseed, Caesar, Oil and vinegar
$

10.5
Mona Lisa Special Sub
Pepperoni, ham, bacon, lettuce, tomato, black olive, mushroom, onion, mustard, mayonaise
$

10.5
Meatball Sub
seasoned ground beef meatballs with mozzarella and marinara
$

10.5
Vegetarian
seasoned vegetables sauteed with garlic, basil, oregano, and topped with melted mozzarella
$

10.5
Your Favorite Calzone
stuffed with mozzarella and marinara, as well as your choice of two ingredients
each additional ingredient $0.8
See toppings list below for ingredients
Pizzas
Small (10") / Medium (12") / Large (14")
$

12.5 /

$

14.6 /

$

16.5
Mona Lisa Special
pepperoni, ham, Italian sausage, mushroom, black olive, green bell pepper, onion
$

12.5 /

$

14.6 /

$

16.5
Spinach
garlic-butter sauce, spinach, mushroom, fresh tomato, onion, feta cheese
$

13.5 /

$

15.6 /

$

17.5
Carnivore
pepperoni, ham, bacon, Italian sausage, ground beef
$

12.5 /

$

14.6 /

$

16.5
Seafood
tilapia, shrimp, baby clams
$

12.5 /

$

14.6 /

$

16.5
Da Vinci
Italian sausage, bacon, artichoke, sun-dried tomato
$

12.5 /

$

14.6 /

$

16.5
Mediterranean
spinach, feta, garlic, black olive, sun-dried tomato
$

12.5 /

$

14.6 /

$

16.5
Hawaiian
ham, pineapple, green bell pepper
$

12.5 /

$

14.6 /

$

16.5
Vegetarian
onion, black olive, green olive, mushroom, green bell peppers
$

12.5 /

$

14.6 /

$

16.5
Garden
spinach, broccoli, green onion, eggplant, fresh tomato
$

11 /

$

12 /

$

13
Make Your Own
Choose your own toppings, with your choice of either red sauce or garlic-butter sauce
$

1 /

$

1.25 /

$

1.5
Each topping:
pepperoni, ham, Italian sausage, bacon, ground beef, shrimp, tilapia, baby clams, fresh tomato, sun-dried tomato, black olive, green olive, mushrooms, white onion, red onion, green bell pepper, spinach, artichoke, feta cheese, pineapple, garlic, zucchini, squash, broccoli, eggplant, basil, roasted red pepper
Entrees
Served with your choice of either side house or side Caesar salad
$

14.9
Mardi Gras Pasta
shrimp and andouille sausage in a creamy red sauce, locally spiced and served over linguini
$

14.9
Pasta Alla Nonna
Italian sausage with fresh basil and roasted red pepper, served with a creole red sauce over penne
$

14.9
Alfredo
linguini served in a sauce of butter, cream and Parmesan, served with English peas
add chicken $3
add shrimp $3
$

14.9
Pasta Bolognese
traditional Italian meat sauce of beef, pork and veal, served over linguini
$

14.9
Lasagna
layers of pasta, seasoned ground beef, ricotta and mozzarella cheese, smothered in marinara
$

14.9
Spinach Lasagna
layers of pasta, spinach, artichoke, ricotta and mozzarella cheese, smothered in marinara
$

15.5
Paneed Chicken or Veal
lightly pan-fried chicken breast or veal cutlet, served over linguini with our house-made alfredo sauce, topped with English peas
$

15.5
Parmesan
your choice of seasoned meatballs or lightly pan-fried chicken, veal or eggplant, served over a bed of linguini, baked in the oven with creole sauce, mozzarella and parmesan
$

15.5
Seafood Pasta
shrimp, tilapia and baby clams, sauteed with your choice of either creole red or lemon-butter-garlic-herb sauce, served on a bed of linguini
$

15.5
Shrimp Scampi
shrimp sauteed in a lemon-butter-garlic-white wine sauce, served with capers over linguini
$

15.5
Shrimp Fra Diavolo
shrimp sauteed in brandy, served with our spiced-up red creole sauce over a bed of linguini
$

14.9
"Spaghetti" and Meatballs
seasoned ground beef meatballs, served with marinara over linguini
$

15.5
Baked Ziti with Meat Sauce
ziti pasta served with our beef, pork and veal meat sauce, topped with creole red sauce and mozzarella, parmesan and ricotta cheeses, baked in the oven
$

14.9
Pasta Primavera
assorted vegetables sauteed and served with your choice of our creole red sauce or lemon-butter-garlic-herb sauce, served on a bed of linguini
add chicken $3
add shrimp $3
$

14.9
Linguini with Baby Clams
baby clams sauteed in your choice of either our creole red sauce or lemon-butter-garlic-herb sauce
$

6
Tiramisu
ladyfingers dipped in coffee, layered with whipped cream, sugar and mascarpone cheese, dusted with powdered chocolate
$

5
Lemoncello cake
chilled lemon sponge cake with mascarpone icing and served with raspberry sauce
$

5
Chocolate cake
chocolate sponge cake with chocolate icing, served with chocolate fudge sauce
$

5
Cannoli
sweetened ricotta cheese with chocolate chips, piped into a crispy pastry shell and dusted with powdered sugar
$

5
Cheese cake
rich, creamy cheese cake served with your choice of strawberry or caramel sauce
$

26
Martin Ray Cabernet
Sonoma, California
$

23
Substance Cabernet
Walla Walla, Washington
$

22
La Toretta Merlot
Italy
$

24
Byron Pinot Noir
Santa Barbara, California
$

25
Bottega Vinaia Pinot Noir
Trentino, Italy
$

38
Au Bon Climat Pinot Noit
Santa Barbara, California
$

59
Giordana Barbaresco DOCG
Italy
$

30
Banfi Chianti Riserva
Tuscany, Italy
$

30
Centine Chianti
Tuscany, Italy
$

26
Bramosia Chianti Classico
Tuscany, Italy
$

78
Oddero Barolo DOCG
Piedmont, Italy
$

24
Seghesio Red Zinfandel
California
$

25
Donnafugata Nero D'Avola
Sicily, Italy
$

24
Ali Sangiovese
Puglia, Italy
$

21
Spellbound Petite Syrah
Sonoma, California
$

23
Bernede Malbec
France
$

36
Surrani Primitivo
Italy
$

22
Annalisa Pinot Grigio
Italy
$

21
Due Uve Sauvingnon Blanc/Pinot Grigio Blend
Italy
$

21
La Toretta Chardonnay
Italy
$

20
La Toretta Moscato
Italy
$

22
Avissi Extra Dry Prosecco
Italy
$

22
Le Morette Rose'
Spain